Think for a while how much delicate information you have stored on your computer at this moment. Bank information? Family photos? Financial documents? and much more. As protection is important in smartphones, in the same way in your PC also important documents and data are stored which you don't want to share with anyone. For this protection is important. But everyone doesn't know how to password protect folder Windows 10. We will solve your problem.
When you created any folder, then see how you can password protect folder Windows 10:-
HOW TO PASSWORD PROTECT FOLDER WINDOWS 10 USING FOLDER GUARD:–
1. For a password protection a folder you have to first download and install "Folder Guard" on your PC. This software is free for 30 days then you have to take the license.
2. Then open a folder guard and it will prompt you to set a master password for the password protection a folder. This will helps you in case you forgot the folder password then it will help to uninstall the software.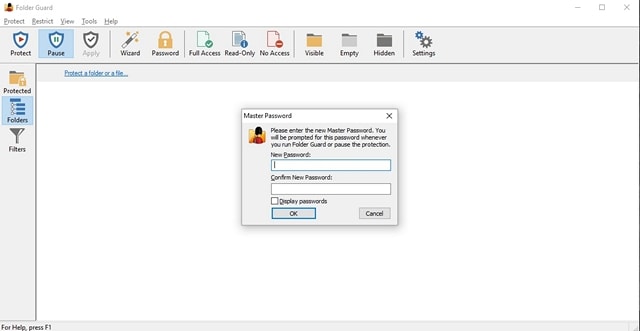 3. When you entered the master password, then for password protection a folder you have to select the file or folder which you want to protect by tapping on the "Protect a folder or file". After selecting the folder to lock click on the "Next" option.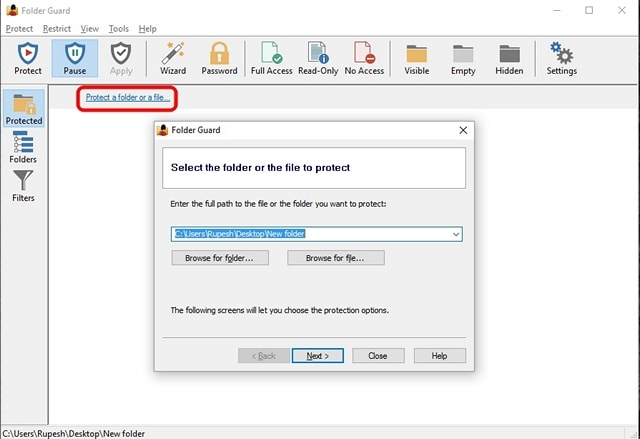 4. Then select the password to password protection of a folder. You can also block its access or change its visibility without select any password for a file or folder.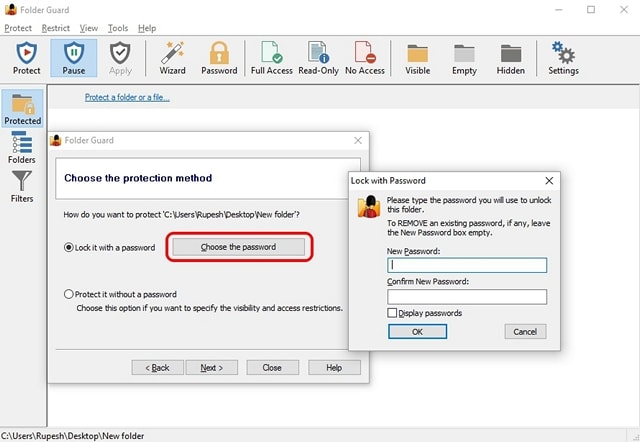 5. When you are done, then at the top panel of the software click on the "Protect". This will password protect a folder. When you close the app, then it will ask you that you want to continue protection or not, tap on "Yes".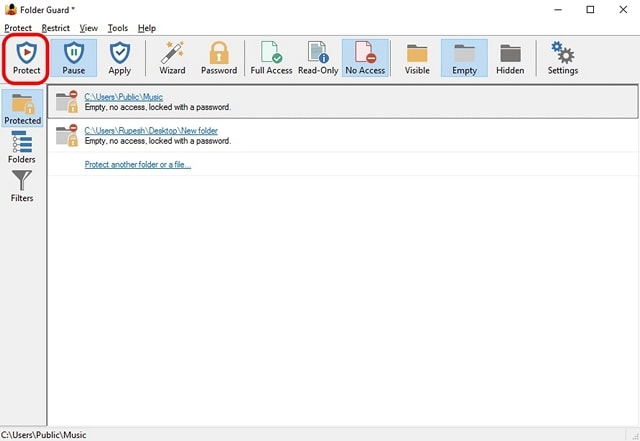 6. Then try to open the folder or file which you have locked. To unlock a folder you have to enter the password to open the folder. When you enter the password, your folder unlock. This is the way you can password protect a folder.
When you close the folder, it will ask that you want to lock the folder or drop it unlocked, If you don't get any message, you can go to the Windows notification tray and you have to right-click on the Folder Guard icon and choose "Run", which will bring options to pause folder protection or lock all unlocked folders. Also, don't worry about that anyone can uninstall the Folder Guard because when anyone tries and uninstall the software, it asks for the master password. Without this nobody can uninstall the software so your password protection a folder is totally secure.
There are also some third-party apps for password protection a folder like a Folder lock, Easy file locker, Encrypt folders, etc. It's your call to select Folder guard or any third-party method to lock a folder. So go forward and start locking your files or folders for the password protection in Windows 10.