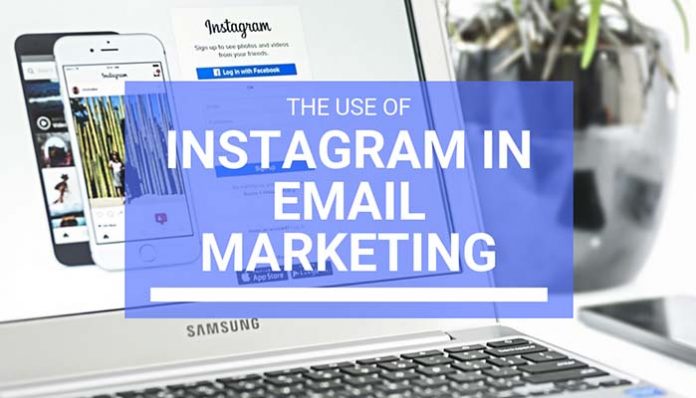 Email marketing is loved by all marketers and marketers love Instagram. If these two loves are brought together it will result in a perfect marriage that will drive more engagement, result, and conversion. Unfortunately, less than 14% of all marketers use social media images in their email marketing campaign and the others are therefore deprived of the benefits that they rightfully deserve. Less than 3% marketers are also found to leverage Instagram content.
Not combining Instagram with email marketing drives fewer impressions and purchases which can ideally be increased seven times otherwise. Thanks to the knowledge provided on the internet, more and more marketers are now exploring the opportunities of using visuals in their email marketing campaigns.
Content marketing happens to be the most important thing for all businesses to promote their brand. However, with the extensive use of technology, there is an increased need of digital assets in your content to make it successful and attractive. The challenge lies elsewhere. To do well in the online market it is important for you to know which assets to use and which platforms to post these on to create the most significant impact.
The way to choose
Apart from the choice of assets and platform, there is another challenge or question to answer: Should you use Instagram, social media more, email marketing, or blogging for the best results. The answer to this question is very simple. You should use all of these methods proportionately to reach out to your target audience.
Following an integrated approach in online marketing is the best way to achieve the results you need but the problem is in the specific techniques that you should use so that it works well in the platforms and all of these complement each other in exactly the way you desire and produce the best results.
Tips to choose Instagram
To use Instagram at its best you must know each of the methods to ensure the most successful online marketing campaigns. Instagram is as you know a great photo and video displaying platform. Much unlike other social media platforms, it focuses only on sending contents directly to the subscribers.
Therefore, the key to success on Instagram is to build your brand and create quality leads. This will incite interest and will also increase the level of engagement at the same time among your followers. You can try the following steps for better results:
Add a 'click for a coupon' link under each photo as this is an excellent and proven way to promote interest among the users and to gain immediate results from your ad campaign.
You should also use proper hashtags just as you do on Twitter. This will help connect those people who have shown an interest in the specific topic or a specific keyword group.
These two simple methods will maximize your impact, gain more Instagram followers and increase your results for sure.
Using email marketing
Now that you know the power of Instagram it is time to know about the relationship that you can establish with email marketing. Email marketing is perhaps the most important and effective method of a digital marketing campaign.
More business owners send emails now than ever before. Statistics show that this trend will continue to grow over time. Therefore, knowing how to link between the two is very important. Given the modern digital marketing scenario, it will be unwise for you to stop email marketing campaigns and instead focus instead on video marketing and social media through these are equally important to ensure better results and ROI.
Email marketing is still the most critical aspect of digital marketing campaigns and that being said the primary goal to succeed in this game is to outwit your competition. This you can do by winning more and more customers. In order to do this you may try these following tips:
Offer extreme value
Be helpful and friendly
Provide enough links
Offer a free incentive for clicking on your links
Avoid sales-oriented language and
Never ask anything in return.
You try any or all these tips one at a time or integrate all of these in a small email to see the results you get, however, friendliness is always the essential criteria. Of course, you can even think of other innovative ways yourself such as:
Including a free eBook on the topic, you know customers will appreciate
Including links to video or podcast to improve your click-through rates
Including multimedia more than text-only emails.
Whatever you include making sure that you do not make it hard for your customers to do what you intend them to do.
Considerations for pairing
Just as good wine is to right cheese, social media is to marketing. In both the combinations, each individual can function well and provide results good enough on their own but when these are strategically paired together you will have spectacular results. Since social sharing is the crux of several content initiatives, email marketing should be paired with it.
There are few considerations as there are several social media channels available that you can use for a successful email marketing campaign. The available channels are:
Facebook with it retargeting that opens floodgates for all enterprise, organizations and SMBs alike
LinkedIn as it has great power in it lead generation efforts
Instagram which is the 'selfie and breakfast pic' filled platform.
Now the question is how does Instagram fit in it being an image-heavy and overly-hashtagged platform? How can it really affect a marketing campaign and what is its utility?
Looking at Instagram through a different filter, it is easy to grab the attention of more users as it has more than 800 million active users and more than 300 million of them logging in daily.
Since social media channels are always there where the customers are, joining them through Instagram is the cleverest idea to gain business benefits and deliver value to your audience.
Integrating social and email marketing strategies is the most customer-centric approach which most prudent marketers follow for one significant good reason: It Works.