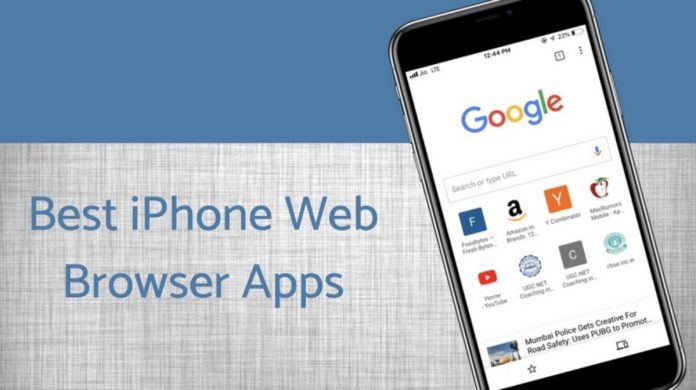 Best iPhone Web Browsers – When you're going online on a computer, tablet, or smartphone, a good web browser is a requirement for using the internet and viewing websites. In an iOS app store, you will see many third-party browsers, which are quite impressive. We have explored several browsers for iPhone users.
Here, we will show you the best iPhone web browsers which you can use:-
GOOGLE CHROME:- Google Chrome is the most popular web browser among all the other browsers. This browser can sync all your bookmarks and history across all your devices. With the help of this browser, you can also translate the pages. This browser has also voice search inbuilt feature through which you can search the web with the voice too. If you are searching for a fast and quick responsive web browser, then Google Chrome is the best option.
MOZILLA FIREFOX:- Mozilla Firefox browser has reliable privacy tools. Like Apple and Google, this browser also syncs all your passwords, history, open tabs, and bookmarks across all your devices. Firefox for iOS provides you the feature of private browsing. The browser offers you regular updates like bug fixes, speed improvements, security enhancements, and new features.
OPERA MINI:- Opera mini web browser gives you an excellent Turbo mode, which reduces your web page size up to 50%. Like Turbo mode, Opera provides you a compression mode through which you can reduce web page size as little as 10% of the original size. Sometimes in some areas, the internet speed is very slow. In an Opera, you can also break the page size; then, for slow speed users, this browser is the best to use. You can even personalize Opera mini with a feature of themes.
MAXTHON CLOUD:- Maxthon cloud web browser is a very lightweight browser app with tons of amazing features like native ad-blocker, a note-taking tool, and much more. As it is a cloud-based web browser, it syncs all your data across Apple and non-Apple devices. In this, there is also a night mode feature through which you can use this browser at night with a fantastic experience.
ALOHA BROWSER:- If you are looking for the best iPhone web browsers with privacy, then try this web browser. This browser gives you a built-in free unlimited VPN. While browsing the internet, you will find an ad-free web surfing environment. IN this web browser, there is an inbuilt VR player so you can play VR videos easily. If you want more advanced features in the Aloha browser, then you have to choose the premium version.
Also read: Try These Best Ways to Open and Edit PSD files without Photoshop