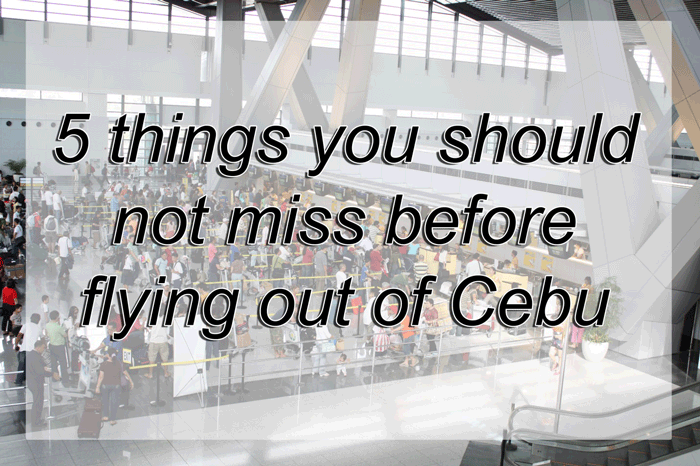 Looking for your last hurrah before coming back to reality? A last laugh before you come back to work, school or whatever it is you are doing. Better yet, looking for your last moment in the Queen City of the south?
Well, you're just in luck. I've prepared you a last minute destination that is close to Mactan International Airport so you won't miss your flight.
As the saying goes "When life gives you lemon, make lemonade", here are some of lemonades you could make while waiting for your flight out of cebu:
Scuba diving
With only few hours before your flight, would you even consider scuba diving? I mean, you've been in Cebu for how many days now and it is your last day and you're just waiting for your flight. Let's say you've missed your chance to learn scuba diving, still you only have few hours left before your flight. As ridiculous as it sounds, you should do it anyway.
With only about 1.5KM from Mactan International Airport, approximately 15-20 minutes away, you could learn scuba diving at the Mactan Scuba Dive Center. The Mactan Scuba Diving Centre offers affordable scuba diving lessons, equipment, and experiences you will surely not forgot.
Spending your remaining few hours in Cebu here is worth every penny you will spent.
Relaxing Spa
Cebu is regarded by Agoda.com, an online booking website, as one of the best spa destination in the world. So, after your tiring itinerary and late night conversations with your companions, a nice full-hour massage in one of cebu's resort is what you and your buddies need.
I suggest their Signature Massage for a rejuvenating 60 minutes of your life. The attendants are well trained, the ambience is good and it is very near to the airport. Since it is near the airport, you will not worry about the chances of missing your flight.
Historical Sites
Yes you've roamed around Cebu, swam with those large whale sharks, survived canyoneering, and completed your itinerary, but often we forgot to visit these some Historical sites. One of those is the shrine of Magellan, a Portuguese explorer who organized the Spanish expedition to the East Indies. His shrine was believed to be the site where Magellan was killed in the 1521 Battle of Mactan.
Within the same area is the shrine of the considered first hero, Lapu-Lapu. He is considered as the first Filipino native who resist Spanish colonisation.
Here you could do your "last minute selfie" and pay respect to the very first hero of our country and the best thing is it is only less than 4KM away from the airport.
Malling
For sure you are already tired or sick of going to mall for as you've been doing this in your own area already, but one of the best things about Malls in every region is that their stores are very different from each other. Some of the stores and stalls here is only exclusive for this region, this include restaurants, clothing lines, and some other boutiques. So it is always not a bad idea in spending your remaining hours in Cebu to do malling, who knows what you'll find in their malls?
Guitar Factories
Cebu is well known for its world-class guitars stemming its Guitar industry roots during the early Spanish colonization whereas the Spaniards commissioned the townspeople to make and repair guitars for the Spaniards.
Many years later, Cebu has been a top destination for Guitar enthusiasts and the most famous in the area are Alegre Guitar Factory. A tour in the factory will help you understand the art of creating a Guitar from start to finish. It is also nice to buy here for as they offer affordable Guitars suitable for any ages.
Live your life to the fullest, that's what we've been saying to ourselves. That includes every travel plan we make. We need to make the most out of it because we don't know when we will be back again. Seize the moment, experience everything.