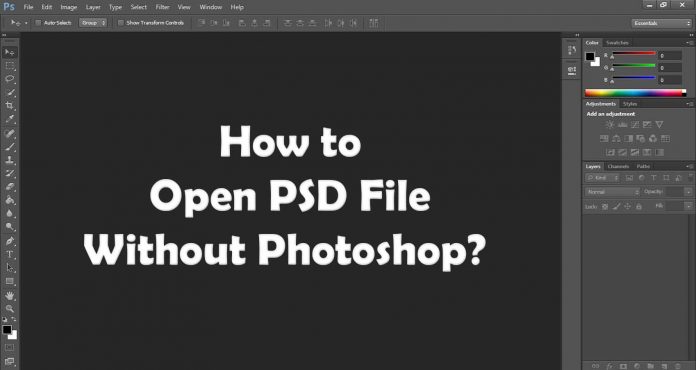 PSD is a popular file format, but like other file formats JPG, PNG, and BMP, etc. which you can open in any photo viewer, PSD is open in certain apps like Photoshop. Sometimes you are outside, and your friend sends you a photo or logo, and you want to open that file, and you can't open on your computer. You can open the file without photoshop. There are so many best ways to open and edit PSD files.
Here are the best ways to open and edit PSD files without photoshop:-
GOOGLE DRIVE:

–

 If you want to open and view the image under the PSD file, then Google Drive is the best option. For this, you have to open Google Drive, then drag the PSD file which you want to open in Google Drive. When the upload is complete, then you will see a variety of options. Right-click on the archive and select Preview to see the image. You can also print the photo or convert that photo using a cloud convert. You can't view layers of the PSD files in Google Drive.
2. PHOTOPEA:– PhotoPea is the best online website to open the PSD files. From a link or a computer, you can directly open a PSD file. It can obtain your webcam and get a picture directly. This is available in eight languages, and you can customize according to your conform. It also supports heavy PSD files without any problem.
3. ARTWEAVER:– To open the PSD files without any hassle, Artweaver is the best tool. You can make changes in the basic layers to an image without any problem. The free version offers you many filters like blur, distort, sharpen, etc. You can also save PSD files to jpeg, TARGA, bitmap, tiff, and gif.
4. ART MASTER:- In an art master, you can open the multiple file-formats, including PSD. To load the image, you have to drag and drop the files to the app interface simple. The art-master opens the multiple file formats like PSD, JPEG, PNG, TIFF, BMP, etc. but you can also convert your PSDs to other formats like JPEG, PNG, etc.
5. IRFANVIEW:- IrfanView is not just displaying the PSD file. This also can do many things like conversion, optimization, scan, and printing and create slide shows. You can also save your PSD file in jpg, BMP, Raw, and PDF, etc.
Also read: Best Wi-Fi Hotspot Apps for Android Smartphones