Valentine's Day maybe over but love is still in the air. We at Fixerman remain enamored, with butterflies in our stomachs and hearts in our eyes, ever since the Samsung Galaxy Unpacked event on February 11th in San Francisco. Samsung's first showcase of the new decade was an unforgettable event, unveiling two champion devices – The Galaxy Z Flip and the Galaxy S20. Today we're going to take a closer look at the latter, so stay tuned to read more about the device that's changing the landscape of smartphones.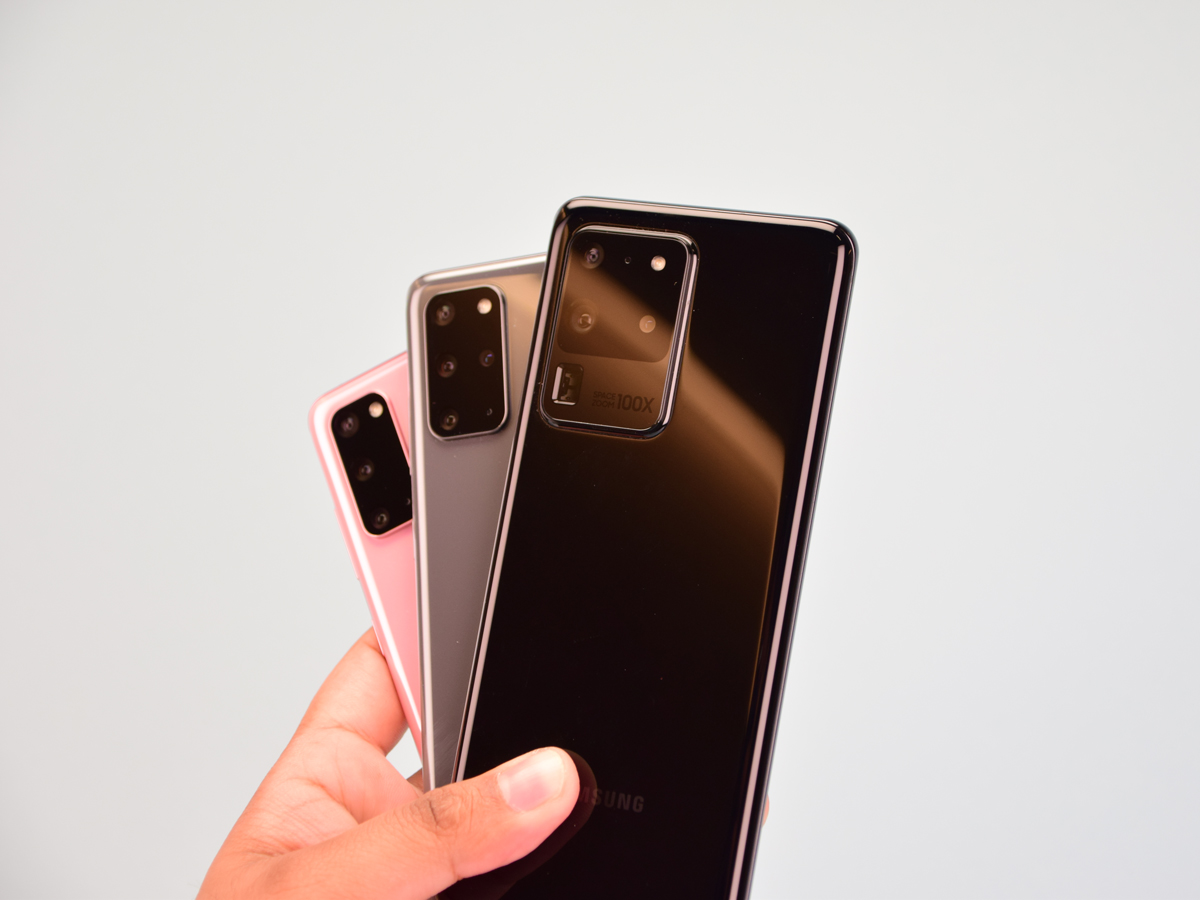 Lineup (price lowest to highest):
Samsung Galaxy S20
Samsung Galaxy S20+
Samsung Galaxy S20 Ultra
Design & Display
With the aluminum frame sandwiching the Gorilla Glass, the first noticeable change is how the 2020 device seems to be taller and thinner than the S10. Samsung slightly compressed its iconic Edge Display, the curve less pronounced than last year which might give users an improved touch experience. The Galaxy S20 offers 6.2in of screen real-estate and a maximum resolution of 3040 x 1440, keeping the overall display of the phone similar to current Galaxy S models. With the punch hole camera set up, the S20 series seems evidently larger in your hand as well as in your pocket. Touch sensitivity on S20 has been boosted to 240Hz for a more intuitive response for you gamers out there, combined with the return of HDR10+ for a more dynamic colour experience on video. The Samsung Galaxy S20 series is the first of the S models to not come with a headphone jack, which might be Samsung's unabashed pivot towards the wireless Galaxy Buds. With their flagship debut of pixel binning technology, we can see why Samsung claimed that the S20 series is their greatest innovation since the S7 and S7 Edge we saw back in 2016, a bold claim that is so far credible. On the given screen size, Samsung has packed on more, combining 9 pixels into 1 on the Ultra, giving us 2.4μ compared to the 1.8μ on the S20 and S20+ for a more vibrant display.
Rating: 9/10
Lens
"It's 2020 – we rely on our phones to document our entire lives", proclaimed Drew Blackard to the crowd at Samsung's Unpacked Event, VP of Smartphone and IoT Product Management at Samsung. They've put their money where their mouth is with this technology we're seeing on the S20 series, showing us that photos are just one part of the camera experience, videos are increasingly important than ever before. By upgrading pixel size and sensors on the triple-lens camera set up, indoor and outdoor pictures on this device are going to be unmatched. We know of two downgrades so far, Samsung had reduced aperture and brought down the Ultra-wide lens from 16MP to 12MP, but with its pixel binning tech, you won't even be able to find the difference. Even though the S20 Ultra comes with a 48 Telephoto lens compared to the 64MP in the other two models, it would still be the better pick in terms of photo and video quality thanks to the packed-on pixels, and especially with its 40MP selfie camera. Samsung's entering the new decade with 2020 vision, giving us a 10x hybrid optical zoom and 100x digital zoom on the Ultra, without a loss in quality. If you want some perspective, we're currently used to 2x lossless zoom, so this isn't a jump…. It's a leap. Some great news for our vloggers, tik tokers, and content creators out there, the S20 series records 8K video, which makes editing and photo-grabbing from video so much more simpler without compromising on quality.
Rating: 10/10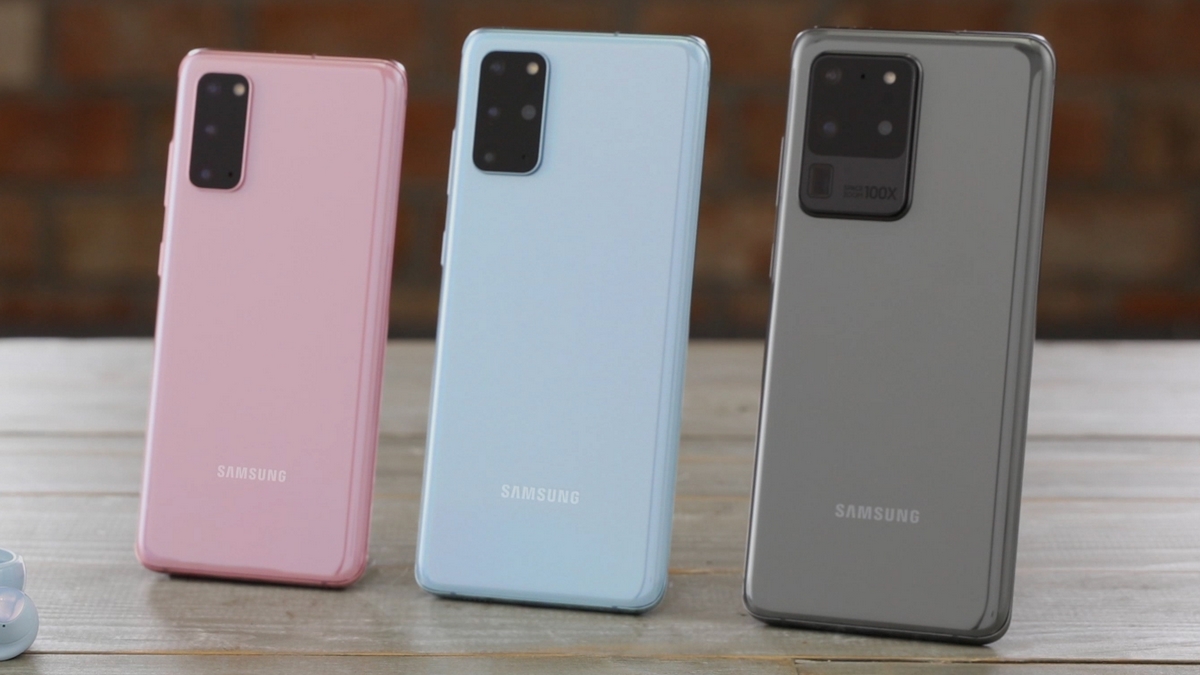 Power & Configuration
All three monumental devices are powered by a 7nm processor, either Qualcomm Snapdragon 865 or Samsung's own Exynos 998, and the former boasts up to 20% faster graphic rendering and 35% more power efficiency than its precursor. All models of the S20 series have 5G but that doesn't mean you might get the same connectivity out of all of them. The S20 holds Sub-6, while the S20+ and S20 Ultra have both Sub-6 and Millimeter Wave. This might all sound like confusing tech jargon, but think of the Sub-6 as a gazelle and the Millimeter Wave like a cheetah; gazelles may be slower but have a higher endurance, they can cover a much larger geographic range than let's say a cheetah, who may have bursts of super high speed, but not able to cover great distances over time. Now just think of these animals in terms of phone signal and coverage. See! Not that hard. With great power, comes great responsibility, and most of this responsibility falls on the battery powering these devices. The S20 series has given its models some serious power tanks – 4000, 4500, 5000mAh – to give their innovation a hefty one-charge lifespan. All models come with 9W reverse wireless charging, so if you find your Galaxy buds drained before your workout, you can just stick them on the back of your S20 device for a burst of charge.
Rating: 9/10
Overall
Samsung has made it pretty clear that the S20 line is not a sequel to the S10e, they don't want to give us a cheaper, more affordable phone. They're making their S20 the primary device for us to pivot to, and we're going to have to see whether users are okay with the price point. The tech giant has made some pretty bold claims with this device, and they all seem to be holding up – because when Samsung promises, Samsung delivers.
Rating: 9.5/10
Specs
Samsung Galaxy S20
Samsung Galaxy S20+
Samsung Galaxy S20 Ultra
Dimensions
151.7 x 69.1 x 7.9mm

161.9 x 73.7 x 7.8mm

166.9 x 76.0 x 8.8mm

Weight
163g
188g
221g
Build
IP68 dust/water resistant (up to 1.5m for 30 mins)
IP68 dust/water resistant (up to 1.5m for 30 mins)
IP68 dust/water resistant (up to 1.5m for 30 mins)
Display
6.2" Quad HD+ Dynamic AMOLED 2X

Infinity-O Display (3200×1440)

563 ppi

HDR10+ certified

120Hz refresh rate support

6.7″ Quad HD+ Dynamic AMOLED 2X

Infinity-O Display (3200×1440)

525 ppi

HDR10+ certified

120Hz refresh rate support

6.9″ Quad HD+ Dynamic AMOLED 2X

Infinity-O Display (3200×1440)

511ppi

HDR10+ certified

120Hz refresh rate support

Front Camera
10MP Selfie Camera

Dual Pixel AF

Pixel size: 1.22μm

FOV: 80˚

F.No (aperture): F2.2

 10MP Selfie Camera

Dual Pixel AF

Pixel size: 1.22μm

FOV: 80˚

F.No (aperture): F2.2

40MP Selfie Camera

PDAF

Pixel size: 0.7μm (10MP 1.4μm)

FOV: 80˚

F.No (aperture): F2.2

Back Camera
1.     12MP Ultra Wide Camera

2.     12MP Wide-angle Camera

3.      64MP Telephoto Camera

Space Zoom

Hybrid Optic Zoom 3x

Super Resolution Zoom up to 30x

OIS (Optical Image Stabilization)

Tracking AF

1.     12MP Ultra Wide Camera

2.     12MP Wide-angle Camera

3.     64MP Telephoto Camera

4.     DepthVision Camera

Space Zoom

Hybrid Optic Zoom 3x

Super Resolution Zoom up to 30x

OIS (Optical Image Stabilization)

Tracking AF

1.     12MP Ultra Wide Camera

2.     108MP Wide-angle Camera

3.      48MP Telephoto Camera

4.      DepthVision Camera

Space Zoom

Hybrid Optic Zoom 10x

Super Resolution Zoom up to 100x

OIS (Optical Image Stabilization)

Tracking AF

USB
3.2, Type-C 1.0 reversible connector,
3.2, Type-C 1.0 reversible connector,
3.2, Type-C 1.0 reversible connector,
Battery
4000mAh

4500mAh
5000 mAh
Sensors
Fingerprint (under display, ultrasonic), accelerometer, gyro, proximity, compass, barometer

Fingerprint (under display, ultrasonic), accelerometer, gyro, proximity, compass, barometer

Fingerprint (under display, ultrasonic), accelerometer, gyro, proximity, compass, barometer

Colours
Cosmic Grey, Cloud Blue, Cloud Pink, Aura Red, Cloud White
Cosmic Grey, Cosmic Black, Cloud Blue, Cloud Pink, Aura Red, Cloud White
Cosmic Grey, Cosmic Black